The following is a brief synopsis of what is available (and you are missing) in this section.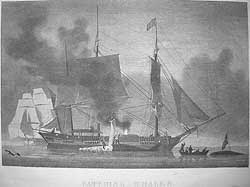 SECTION 4 - The search for the Right Whale - the story of the early Arctic Whale fishery
The introduction describes the early Arctic whale fishery from Viking times through the Dutch and British Muscovy Company based in Spitzbergen. Details of British Arctic Whaling in Greenland waters in search of the Right Whale during the eighteenth century and rise of the nineteenth century American Sperm whale industry are covered; together with the attributes and specialties of the species of whale and some statistics relating to whaling. A vivid description of the hunt, killing and aftermath of a whale chase is given. The contribution to Arctic geography and cartography is touched upon, as is the relevance of the whale fishery today.
Three very rare antique maps, including that of Samuel Purchas 1625, are fully described and their significance documented to international standard. Six antique prints which vividly illustrate the early Whale fishery (1775-1875) are also described and offered, making this section a splendid purchase for those concerned with the plight of Whales today.
The full research information and cataloguing details of the items in this section however, are available to purchasers only. Please contact us.
Home | Contact | Location | Links | Antique Prints | Fine Art | Antique Maps | Omnium Gatherum | Specialty Services