The following is a brief synopsis of what is available (and you are currently missing) in this section.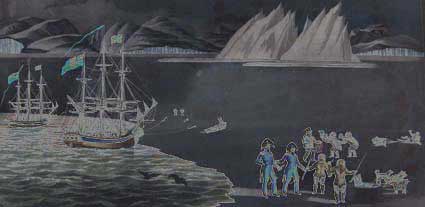 SECTION 10 - Sir John Ross- First Arctic Voyage 1818
The exploratory voyage of Sir John Ross although deemed a failure by Barrow, did set the standard for the scientific exploration of the Canadian Arctic, the career of the former and specialties of his fellow officers are covered in detail, as is the cataloguing of the six antique maps and 32 original engravings offered illustrative of the voyage, they include the plates of the first German edition of the voyage and a very scarce caricature. The significance of the voyage to contemporary naval officers and whalers is highlighted, as is the relevance of the voyage to the history of arctic exploration, for it was this voyage that led to the eventual discovery of the Northwest passage. This was also the first British arctic exploration to have meaningful scientific interaction with the native inhabitants.
The full research information and cataloguing details of the items in this section however, are available to purchasers only. Please contact us
Home | Contact | Location | Links | Antique Prints | Fine Art | Antique Maps | Omnium Gatherum | Specialty Services