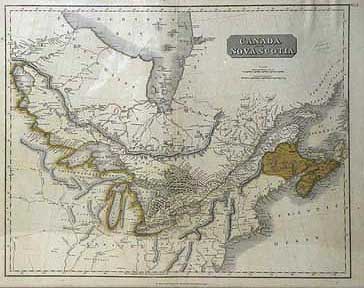 John Thomson & Co.
Canada and Nova Scotia No.34
[1814]
Original outline and body colour. Glazed, Black & gilt-wood frame 19 x 23 ¼"(48.3 x 59.1cm.) Frame 22 ½ x 30"
Ref. PR 2 (183)/ANN/ s.ando> EAL
Shows Upper Canada extending to Lake Winnipeg and Lower Canada extending to the Labrador coast. The height of Land demarking the HBC territory is the vast forest in Upper Canada the majority of which is marked Chippewayan Hunting Country. Indian tribal areas are named in both Canada and the United States, as are the beginnings of white settlement in the Home and Midland Districts, along the Great lakes. Dundas Street is delineated from London to New Niagara
Published in: Thomson, John. A new general atlas (1814 edition). No. 34.
Home | Contact | Location | Links | Antique Prints | Fine Art | Antique Maps | Omnium Gatherum | Specialty Services