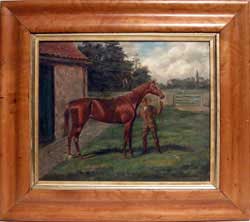 Alfred Charles
HAVELL
1855-1928
British
Sheen , Alicante
Pair of oils on canvas; each signed (lower right), each titled (lower left), each titled to a printed label listing the races won for each on verso. Set in period birds-eye maplewood frames .
10 x 12" approx. (25.4 x 30.5 cm.) Frames: 15 ¼ x 17 ½"
Ref AW1&2 /RNNN/ g.anad >LNNN Pr. PRICE CODE I

Depicts portraits of the British thoroughbred winning racehorses 'Sheen' (B. h. by Hampton- out of Radiancy), walking and led by his trainer T. Jennings senior and ridden by jockey F. Webb, who is shown astride the horse. The horse was owned by H.S.H. Prince Dimitry Soltykoff (ca. 1829- 1903). The horse won Cesarewitch 1890, Ascot Derby [King Edward VII] Stakes, Zetland plate, Grand Duke Michael Stakes, Jockey Club cup 1889, Suffolk Stakes, & Newmarket biennial stakes where it won a plate of 1,000 sovereigns in 1890.
Also 'Alicante' (Ch.ƒ. by Hermit-out of Medeira), standing, being held by his trainer. The horse won the Cambridgshire in 1890 and 1891 won 33rd. Biennial Stakes [Paris]
Thease are the original paintings from which the now rare colour aquatints published on 16th. March 1891 by Messrs, Fores were made.
Alfred Charles Havell (1855-1928) first exhibited at the Royal Academy in 1878 and soon afterwards took up commissions with Messrs. Fores of Picadilly, London to record important racehorses of the day for subsequent publication. This connection continued through until his death in 1928. 'All his pictures provide a valuable record and link in racehorse portraiture.
Home | Contact | Location | Links | Antique Prints | Fine Art | Antique Maps | Omnium Gatherum | Specialty Services