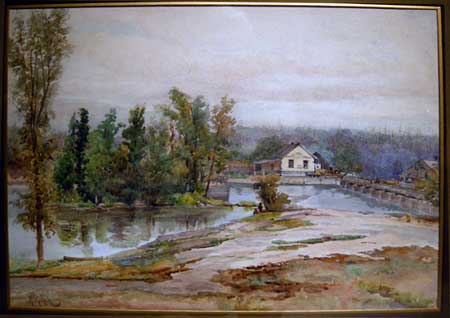 Joseph Thomas Rolph 'Mill pond '
13 ½ x 19 ¼ " (34.2 x 49 cm.) Frame 27 1/3 x 29 3/8"
Ref. 432 PD12/ELN/ o.ande > DNNN PRICE CODE D
A fine turn of the 20th. cent. South-West Ontario watercolour, Depicts a landscape with good detail, of boys fishing from a dam and others in the mill race of the mill, as are the details of the mill an surrounding trees. The location is possibly near Lake St. Clair as the artist had a cottage near there. The vicinity was frequently the sites of his subject landscapes.
Joseph Thomas Rolph 1831 - 1916, was born in London, England, emigrating to Toronto in 1857.
Born in London, England. Engraver and painter. Studied at the School of Design, Somerset House, London, England during the mid 1840's. Emigrated to Toronto, Canada (1857). Worked as an engraver and die sinker. Partner in firm Rolph, Smith & Co. (1857-89). Painted oil and watercolour landscape views of southern Ontario for which he is best known, and of still life. He also painted views of England, Maine & Nova Scotia. He was a fine painter in his spare time from being an engraver at his company Rolph Smith & Co. He exhibited at the RCA between 1885&-1915 and Art Association of Montreal 1888-1905 and was a founding member of the Ontario Society of Artists. His works are included in the collection of the Government of Ontario and Toronto Public Library.
Societies: Royal Canadian Academy (organizational meeting, 1879), ARCA (1880), OSA (founding member, 1872)
"He was one of an important group that painted typical Canadian scenes in the eighteen eighties and nineties." A.H.Robson, Canadian Landscape Painters, Toronto 1932. p.52.
RCA. OSA.
Home | Contact | Location | Links | Antique Prints | Fine Art | Antique Maps | Omnium Gatherum | Specialty Services