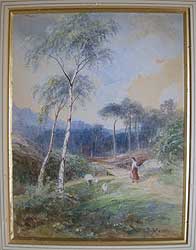 John MacWHIRTER
R.A., H.R.S.A., R.I., R.E
Scottish
1839-1911

A May Day in Scotland.
Signed 'MacW' (Bottom Right) Gilt Fillet, French lines and wash panel, double matted, glazed, Gilt-wood frame.
7 ¾ x 6" (19.5 x 15.2 cm.) Frame 16 ½ x14"
Ref. 562 GH47 (140)/ANN/ dd.ands >ENN
Price Code B
SOLD
We are delighted to offer this atmospheric watercolour by the artist John MacWhirter, who has signed the painting in the lower right- hand corner 'Mac W', which is how he characteristically signed his work. This is a tranquil almost poetic spring landscape, of considerable charm. Painted in Scotland with a grove of slender birch trees against a mountainous landscape. In the foreground stands a ewe and two lambs, nearby a woman is about to cross a wooden bridge.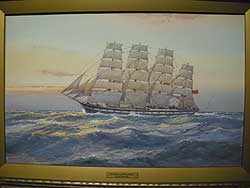 Robert
MacGREGOR
RSA.
Scottish
1848-1922
Clipper Ship ' Palgrave'
Watercolours on paper, Ca. 1885. Signed (Bottom Left) Glazed, period gilt-wood frame.
12 3/4 x 19 1/2" (32.4 x 49.5 cm.) Frame: 19 1/2 x 26 1/2"

Ref. 621 GH 26 (140)/AVL/ r. ando >OLN PRICE CODE D
SOLD
The fully rigged clipper ship is depicted with all sails set upon her four masts as she is illuminated by the soft light of early evening sunset as she makes her way to port thorough a fair breeze at the end of an Australian run, she flies the red ensign of the British Merchant navy and seagulls trail in her wake. At that time Palgrave was the largest ship in the world.